Using Section 1031 to Maximize Real Estate Wealth and Income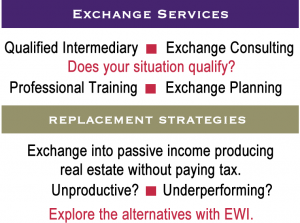 As a real estate investor or investment property owner, you know it takes more than just buying and selling properties to achieve your investment objectives. In fact, you need to manage your investments in real estate as you would your other financial investments, adjusting your portfolio so you can maximize your returns.
When it comes to selling an investment property, you want to defer capital gains tax in order to re-invest your money into a replacement property or properties. A Section 1031 exchange is an excellent way to preserve capital and defer capital gains tax, depreciation recapture tax, and even sales tax on the sale of business or investment property.
But a 1031 exchange is more than just the transaction. Before you decide to sell a property, you need a plan.
Do you want to increase cash flow by exchanging low or no cash flow properties into ones that have more cash flow potential?
Is your goal to build more wealth by trading one property to buy two or more?
Do you need to eliminate management intensive properties for others that are more maintenance free?
Should you diversify your portfolio of investment properties to reduce risk?
Since your financial goals are unique to your situation, to get the most from your exchange, it is very important to work with a 1031 Qualified Intermediary who understands your situation and can recommend the right solution. There are many types of exchanges available and selecting the strategy that helps you achieve your financial goals is crucial.
Edmund & Wheeler are experienced professionals that have been successfully executing 1031 exchanges for many years, focusing on accomplishing your overall goals rather than just facilitating an exchange. Our services include:
Education and strategy consulting
Execution of the exchange
Replacement strategies and integration with estate and personal planning
Our services enable us to work with you before, during and after the exchange, greatly increasing the success of your overall exchange strategy.
If you would like to discuss your investment situation with one of our professionals, please contact us.