We Have Another Pin in Our Map!
Many of the readers of this newsletter are past clients, clients who we have never met.  We hasten to point out that we welcome visits by clients and their advisors, but many of you, upon glancing at a map and noting the location of Littleton have said "Let's do this by phone."  Nevertheless, for those of you who have beaten a path to get here, one of the first things you will see before we discuss your particular situation is our map.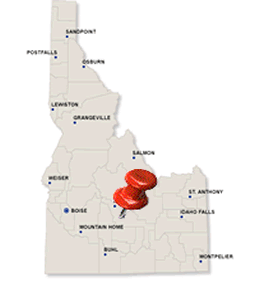 Our map is a school-sized wall map of the US, mounted on a bulletin board.  We have pins in this map which represent where we have done either side of a Section 1031 Exchange, one multi-colored pin per state except in the cases where we are called upon to own the legal title to one of the properties involved, such as in a Reverse or Build-to-Suit Exchange.
In that case, we use a white pin; so far, there are white pins in New Hampshire, Maine, Vermont, Massachusetts, Rhode Island, South Carolina, Florida, Texas and California.
But what about the multi-colored pins?  We had until the beginning of this summer 48 such pins, lacking only Alaska, South Dakota and Idaho.  This summer, we are proud to add a pin in Idaho with the assistance of Section 1031 Services of Bellvue WA., leaving only two states to go.
If you look at Idaho and neglect its size, it appears like a mirror image of New Hampshire.  Perhaps that's appropriate……….